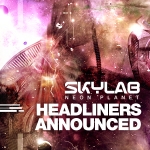 As our Skylab 2013 mission out of the darkness continues, we can see the glow of Neon Planet beginning to brighten! The time has come to bring in addition mission commanders to guide us into final orbit around Neon Planet.

Now arriving on Skylab:

Morgan Page Presents Tour: Morgan Page, Project 46, and Walden
Prepare for total immersion in the beats that envelop the Neon Planet: the Morgan Page Presents Tour featuring Morgan Page, Project 46 and Walden have been added as your Mission Commanders for Skylab 2013!
Morgan Page has a style he's built that floats between pop and electro, with memorable tunes and lyrics that we love to keep on repeat. He brings along Project 46, a duo that stands out among other progressive house producers with their refreshing studio compositions, and Walden, an 18-year-old with an original sound so unique, he was snagged by Big Beat Records within weeks of putting out his first tracks in the web.

Mt Eden
Bringing the necessary high level of Bass is duty of mission commander Mt Eden, who are prepared with their trademark extended build-ups, drum solos, double and triple drops that will melt alien faces on our journey!

Manufactured Superstars
Ready to blast off us with us again, mission commanders Manufactured Superstars have journeyed to festivals and clubs all over the world bringing their diverse sets ranging from mainstream pop to underground prog-house to urban electro! They have their space suits ready to explore the Neon Planet with you!

gLAdiator
Danl and Ian of Los Angeles comprise the duo gLAdiator, who's sets are a melting-pot of sound and tracks carry a distinct production style.

Dragon & Jontron
The combined talents of Dragon & Jontron will shake the ground when we arrive on the Neon Planet! They've already made major sound waves with their remixes and collaborations with some of the worlds Top EDM artists including Tiesto, Kaskade, BT, Morgan Page and more. With them on our flight commander roster, we're sure to have an amazing space journey!

JQA
The duo JQA brings their special talents of versatility and quality as flight commanders for mission Skylab! Their multi-genre performance will communicate feelings of happiness no matter the language aliens on the Neon Planet speak.

WRKD
Bass producer WRKD, based out of Colorado, has been said to be going big places quickly. He's now headed into the outer edges of space to the Neon Planet joining our Mission Commander roster!

Ishe
Colorado's bass-music master Ishe boasts two decades of experience behinds the decks and proven face-melting skills. With his wicked mixing & production skills, he is a must-see addition to our Mission Commander roster for Skylab 2013.

These commanders join Kaskade, Dillon Francis, and Luminox on our mission to light up the night at Skylab: Neon Planet!

Purchase Tickets here
Join the flight crew

Now is the time to plan your mission by getting your neon outfits ready!
Read More