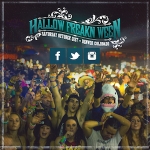 As we begin our revelry into the Halloween weekend, we urge you to share this experience with all of your fellow dancing spirits. Take plenty of photos to upload to Instagram, Twitter, Facebook, and showcase the spooky sights that are witnessed along this dark evening! The official hashtag is #HFW15 use it to join in on the conversation this Halloween or to follow along with what's going on!
Missing the freak'n good times at HallowFreaknWeen?! Fear not! We'll be keeping the party going online all night long!
Connect with us on the Global Dance Festival Facebook Page, follow us on Twitter(@globaldanceprod), Instagram (@globaldanceUS), and Snapchat (@globaldanceUS).
Read More