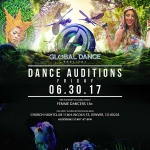 This is your chance to be a part of Denver's famous Global Dance Festival! Show your skills and take a chance to become part of the GDF 2017 Experience!
WHEN: June 30th promptly at 9pm
WHERE: The Church Nightclub
1160 Lincoln St. Denver, CO.80203
DETAILS:
Dancer auditions are for females 18+
All skill levels welcome!
All participants wearing dance attire will receive free admittance at the door
Invite your friends to join us and be ready to rock it!
See you ladies on the dance floor!
Link to event HERE.
**All other performers, makeup artists & production assistants please submit a resume and/or audition video to rachel@betanightclub.com by June 24th. All forms of art welcome!!!
Read More