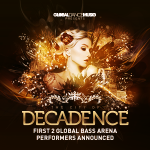 Introducing the first 2 of many #DecadenceNYE Global Bass Arena performers:
December 30th: Bassnectar
December 31st: Big Gigantic

In five more minutes will will release the first 2 Global Dance Arena performers.

This New Year's Eve we gather for two consecutive nights for what is guaranteed to be the biggest and most extravagant celebration of 2014! We'll be closing the year out in style, with massive production, elegant performers, diamond-clad decor, glimmering displays of technology, and luxurious art installations. And to provide the perfect mood for this over-the-top celebration we've lined up some of the best talent in the world!
Read More