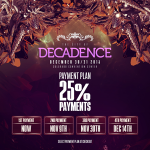 All Decadence 2015 tickets, GA, VIP, single day, and 2-day, will be available for the payment plan option. Once a tier sells out, the payment plan will adjust to the new price tier. You will have 4 separate charges that equal 25% of the total ticket price. Ticket fees are assigned to each of the four charges, with each charge having 25% of the total fees.

Please note:
· The payment plan option is selected at check-out.
· Payment plan tickets CANNOT be purchased on a mobile device. You must use a computer.
· The expiration date on your card must be later than December 14th, 2015. Please be sure that there are sufficient funds to cover the payments on November 9th, November30th, and December 14th.
· No Tickets will be mailed until all payments are complete

Here's how it works:
1st Payment – Time of Purchase – 25% of entire order
2nd Payment – Nov 9th – 25%
3rd Payment – Nov 30th – 25%
4th Payment – Dec 14th – 25%

The Payment Plan will be available until November 8th, 2015, subject to ticket availability. Limit of eight (8) tickets per customer under the Payment Plan.

IMPORTANT: If, for any reason, any of your payments are declined, in whole or in part, your order shall be cancelled in full and you will forfeit ALL payments made prior to default. NO exceptions. You acknowledge and agree that, until ALL payments required hereunder are made in accordance with the terms and conditions set forth herein, your participation in the Payment Plan operates only as a ticket reservation and not as an actual ticket purchase. ALL SALES ARE FINAL AND ALL PAYMENTS MADE TOWARD THE PAYMENT PLAN ARE NONREFUNDABLE.
Read More