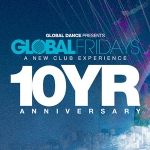 Ten years ago we started a weekly club night at The Church Nightclub with intentions of gathering friends and dance music fans together in one spot to celebrate music. Over the last decade hundreds of DJ's and production teams have been part of this incredible experience!
As we approach our ten year anniversary, we have decided to re-launch Global Fridays and ascend to global levels! Your Friday nights will never be the same! Introducing the new Global Fridays experience:
February 6 - Myon & Shane54
February 13 - Paris Blohm
February 20 - Tritonal
February 27 - GTA & TJR
March 6 - JES
March 13 - Black Tiger Sex Machine
March 20 - Cosmic Gate
March 27 - Global Beach Party
April 3 - SNBRN
April 10 - Rave Of Thrones
April 17 - BT & tyDi
May 8 - Paul Van Dyk
In celebration of our ten year anniversary, you can now purchase ticket to ANY of these shows for just $10 per show through Friday night at midnight.
Purchase tickets HERE
Read More