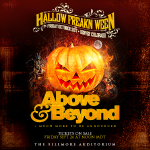 The Fillmore Auditorium has provided the following guidelines that will be informed for Hallowfreaknween 2014:


The Fillmore welcomes our guests to the HALLOWFREAKNWEEN show featuring Above & Beyond! We encourage our guests to get in the holiday spirit and come in costume but we also remind our guests that certain objects are prohibited and should not be brought to the HALLOWFREAKNWEEN show.

- Posters will be allowed in the venue, but cannot be attached to sticks or poles.
- Small personal-sized umbrellas without a point will be allowed. Please be courteous and do not allow your posters or umbrellas to block other guests' view to the stage.
- Please be sure your costume does not include any weapons, sticks, poles, projectiles or anything that may be used as weapons or projectiles including glow sticks.
- Anything that may impede other guests including hula hoops, batons, or spinning balls are prohibited.

General Prohibited Items
- Cans, bottles, glass of any kind, outside food or beverage
- Drugs
- Large bags and backpacks
- Any glass objects
- Weapons of any kind
- Laser pointers
- Audio or video recorders (including GoPros)
- Professional cameras

The Fillmore is a non-smoking facility. There is a smoking area for tobacco products including vaporizers outside the South end of the building adjacent to the main entry area.
Marijuana of any kind is prohibited. The use of Marijuana in public places including the Fillmore is illegal.

All guests must be 16 or over and need government issued photo ID with proof of age to enter. Guests who are over age 21 with proper government issued ID who wish to drink will be issued a wristband.

Guests whose costumes, masks or face make-up interfere with identification may be denied entry and/or drinking wristbands.
Read More