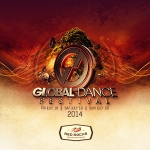 The pinnacle of dance music in Colorado is without a doubt, Global Dance Festival. For the past 11 years, thousands of beautiful people have made the trek to Red Rocks, one of the most inspiring venues in the world to celebrate life through dance. Global Dance Festival takes the natural beauty of Red Rocks and enhances it with cutting edge production, lasers, LED's, costumed performers and stars of the dance music world. The result is three nights of dance nirvana.

This is the one. The show we spend all year thinking about. Colorado's flagship dance music festival and the premier summer music festival in the Rocky Mountain region!

A mainstay of Colorado's passion for dance music, Global Dance Festival has grown to become the premier summer music festival in the Rocky Mountain region! As we head into the 12th year we invite you back to create new friendships, celebrate existing ones, and foster a community of acceptance at our summer home: Red Rocks Amphitheatre.

Start planning your summer adventure now: Global Dance Festival returns on July 18th, 19th & 20th! Join us as we continue to exceed the limits of dance music in Colorado!

"When Kostas and I began the Global Dance Festival journey, we really just wanted to bring some of the world's best EDM artists to our home town. We both had a passion for this music, so the goal was to share it with as many fans as possible," says Global Dance CEO Ha Hau, "We can't believe that this is the 12th year and we are really excited to show you what we have in store."

Lineup and ticket announcements will start soon. Make sure you are connected with GDF so you are among the first to hear.
Like GDF on Facebook here
Follow GDF on Twitter here
Read More