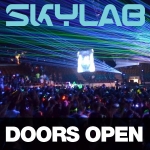 All systems are go!

Skylab: Mission Blackout has officially launched and gravity-defying beats are beginning to take over the atmosphere. From astronomical performances to intergalactic entertainers, we have a huge night of discoveries ahead of us. Get to the launch pad and join the exploration into the blackout!

Tickets available at the door.
Follow us on Facebook, twitter (@triaddragons), and Instagram (@GlobalDanceUS) all night for mission updates.
Read More